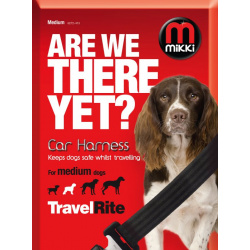 Make travelling with your pooch a safer experience! Keep them strapped in with the Mikki Car Harness. Suitable for both long and short journeys, the adjustable straps mean you'll get the perfect fit. The easy-to-use detachable seat belt strap will release your dog quickly and the re-enforced swivel seat belt allows you dog to turn without getting tangled. Available in two sizes.
Order within
18h
57m
20s
to receive your order Saturday 20th August
The harness or collar debate is a hot topic between many dog owners. Some very much prefer one to the other. Overall, there are pros and cons of wearing either a collar or a harness and it is more about what your dog needs and is comfortable wearing.
Owners who use harnesses do report having more control over their dogs whilst out walking and it's less likely for your dog to get tangled in their leash. It also reduces risks for any neck injuries.
As lovely as this all may sound, some dogs however absolutely hate harnesses! They may feel uncomfortable wearing it and harnesses can be an absolute nightmare for dogs with long fur. It can become tangled within the harness and that can be extremely painful.
At the end of the day, the choice is entirely yours depending on what is best for your dog and it's needs.
01
Choose the product and amount from our website.
02
Carefully read the product description.
04
Your product will arrive by post.
Learn More
VMD's Product Information Database
Quick & Easy

Simply upload your prescription and receive it the very next day.

Checked by Vets

All orders are double checked by our team of vets.

Confidential Service

Your information is secure in our state of the art secured servers.

UK Medication

Dispensed by a leading registered UK pharmacy.