Vet Prescription Required in Checkout
Metacam 1.5mg/ml Oral Suspension for Dogs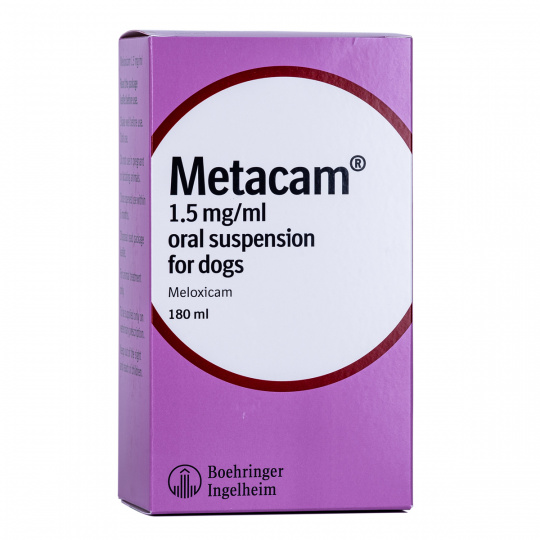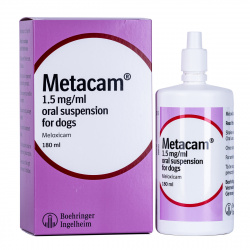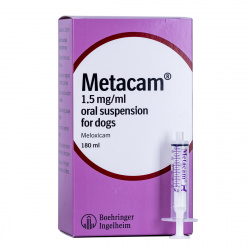 Metacam 1.5mg/ml Oral Suspension is a non-steroidal anti-inflammatory (NSAID) for dogs. It is a once daily liquid that is given by mouth or on food. Metacam is used to manage pain associated with musculo-skeltal disorders  such as osteoarthritis.
Order within
21h
50m
55s
to receive your order Thursday 3rd December
Used to manage painful conditions
Offer effective relief
Easy to use
Genuine medication
All medicines sourced in the UK
Lowest prices online

No hidden fees

Free Tracked Delivery

On orders over £29.99

Next Day Delivery

Receive your order in 24 hours
What is Metacam?
Metacam is a medicine for dogs suffering from painful inflammation caused by musculoskeletal conditions, and helps keep pain at a minimal level. By reducing a dog's pain, its quality of life can dramatically increase. It comes in a number of different forms including an oral suspension and tablets. It is available in a variety of doses, and should be taken as directed by your vet. 
After this treatment has reduced pain and inflammation, dog owners may notice a range of improvements such as increased mobility, energy, and willingness to engage in exercise.Usually an improvement will be noticed in 3 to 4 days.
If your dog is hypersensitive to meloxicam – Metacam's active ingredient – then this product should be avoided. Metacam very rarely causes the following side effects: vomiting, loss of appetite, kidney failure, apathy, and softening of stools through to diarrhoea. Most of these side effects cease when treatment has been withdrawn.
Metacam should not be used on dogs that are pregnant or lactating, or weigh less than 2kg.
How does Metacam work?
Meloxicam – which is Metacam's active ingredient – blocks cyclo-oxygenase enzymes which are responsible for producing the prostaglandins which cause pain and inflammation. 
Put more simply, Metacam stops the chemicals which cause painful inflammation from working, thus preventing swelling from taking place.
Your veterinary surgeon will advise you on a dosage amount. Shake well before use. Metacam comes with a weight graduated syringe for ease of administration. It is recommended that Metacam is always given with food. The medication can be mixed with food or administered directly into the mouth and followed by a meal.
What are the benefits of Metacam?
Pain and inflammation of any kind can be debilitating and significantly reduce your dog's quality of life. Metacam targets inflammatory pain's root causes, thus helping your dog live its best and happiest life. 
Is Metacam Available Over The Counter?
Metacam is not available over the counter, and requires a veterinary prescription.
Dosage will vary depending on the size of the dog receiving the prescription.
Vet Prescription Required In Checkout
01
Get a prescription from your vet.
02
Choose the product and the amount from our website.
03
Fill out the details of your pet and upload the prescription.
04
Our vets and pharmacists will check it.
05
Your pet's medicine will arrive by post.
Learn More
VMD's Product Information Database
Quick & Easy

Simply upload your prescription and receive it the very next day.

Checked by Vets

All orders are double checked by our team of vets.

Confidential Service

Your information is secure in our state of the art secured servers.

UK Medication

Dispensed by a leading registered UK pharmacy.