Vet Prescription Required in Checkout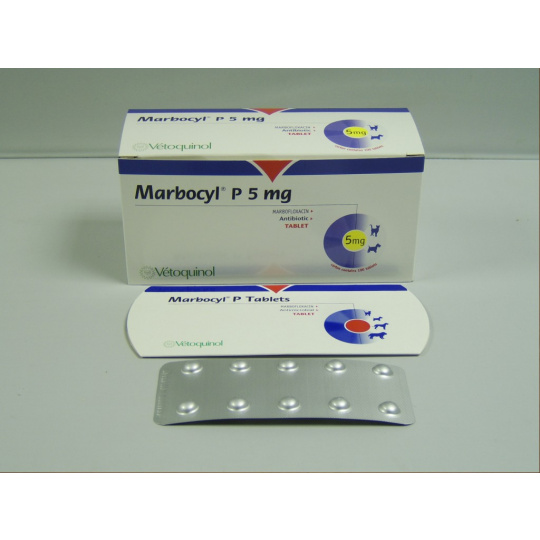 Images for illustrative purposes only
Marbocyl P Tablets are a treatment for respiratory tract infections and skin and soft tissue infections in both dogs and cats. They can also be used for urinary tract infections (UTI) in dogs. Marbofloxacin is the active ingredient. They come in tablet form for oral use and can be divided into halves. The 20mg and 80mg are for dogs only. The 5mg dose is for dogs and cats.
Order within
19h
39m
55s
to receive your order Saturday 20th August
What are Marbocyl P Tablets?
In dogs, the tablets can be used to treat skin and soft tissue infections (impetigo, skinfold pyoderma, cellulitis, folliculitis and furunculosis) as well as urinary tract infections and infections of the respiratory tract.
In cats (using Marbocyl P 5mg tablets only) they can be used to treat skin and soft tissue infections such as wounds, abscesses, inflammation and upper respiratory tract infections caused by susceptible strains of organisms.
How do Marbocyl P Tablets work?
The treatment contains the active ingredient marbofloxacin which is an antibiotic used to clear bacterial infections. It works to stop the growth and clear the symptoms of the infection.
How to use Marbocyl P Tablets
It is important that as soon as you receive and open the medication, you read and understand the instructions, especially on the recommended dose. The tablets are for use orally for your dog or cat and should not be administered in any other manner. It is important that you check with your vet with regard to the recommended dosage.  
How to order Marbocyl P Tablets 
Marbocyl P Tablets are a POM-V medication. You will need a valid written prescription from your veterinary surgeon to order this from us. Please carefully select the product and the correct strength and amount. Add it to the basket. You will be asked to upload a valid prescription (alternatively you can email it to us) and then complete checkout. Once our veterinary team reviews and validates your prescription, your order will be dispatched from the pharmacy to you by your chosen delivery method.
Vet Prescription Required In Checkout
01
Get a prescription from your vet.
02
Choose the product and the amount from our website.
03
Fill out the details of your pet and upload the prescription.
04
Our vets and pharmacists will check it.
05
Your pet's medicine will arrive by post.
Learn More
VMD's Product Information Database
Quick & Easy

Simply upload your prescription and receive it the very next day.

Checked by Vets

All orders are double checked by our team of vets.

Confidential Service

Your information is secure in our state of the art secured servers.

UK Medication

Dispensed by a leading registered UK pharmacy.