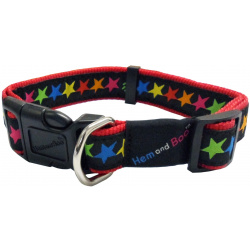 Giving your dog some funky style, the Hem & Boo Adjustable Collar in a multicoloured star print is not only stylish but comfortable. Adjustable straps mean you'll get the perfect fit, and a strong, solid metal D ring will secure your lead. A must-have collar for any fabulous pooch.
Order within
21h
2m
59s
to receive your order Thursday 7th July
An important purchase for any dog owner is always their collar. It's something you know will get a huge amount of use and its key to their safety. It's also against the law to walk your dog without a collar in the UK, therefore you need to get the right one. But there are so many different collars to choose from, which is best for your dog? There are a few main points to consider when purchasing a collar.
Size
A collar must fit your dog's neck perfectly. It must not be too tight as to avoid any pain or discomfort and it cannot be too loose and risk coming off. To guarantee a perfect fit, measure your dog's neck and add 2-3 inches to get the right fit.
The measuring doesn't end after the first collar. It's important to remember that as your dog grows, their collar must grow with them so you must keep a check on their collar to make sure it is not too tight for them. The easiest way to check that their collar still fits well without getting out the measuring tape is by placing your fingers underneath the collar. Two fingers must be able to fit comfortably between the collar and your dog's neck.
Purpose
Next to consider is what you need the collar for. Is it a basic dog collar for daily use and aesthetic purposes? Is it for training purposes? Is it a safety collar such as a flotation collar or maybe an LED collar to see them at night? Once you identify what collar you need, finding one will be a lot easier.
Material
Dog collars come in a large variety of materials, such as nylon, paracord, neoprene, plastic and faux/genuine leather. All different materials have different pros and cons, such as durability, a low cost or odour-resistant so it's important to see what each material offers and what is the most important to you.
01
Choose the product and amount from our website.
02
Carefully read the product description.
04
Your product will arrive by post.
Learn More
VMD's Product Information Database
Quick & Easy

Simply upload your prescription and receive it the very next day.

Checked by Vets

All orders are double checked by our team of vets.

Confidential Service

Your information is secure in our state of the art secured servers.

UK Medication

Dispensed by a leading registered UK pharmacy.